HITACHI Seal Kits
We offer the "AZS" brand replacement for HITACHI Hydraulic Cylinder Seals & HITACHI Seal Kit | HITACHI Master Double acting Rotary Hydraulic Cylinder Seals & Seal Kit | HITACHI Oil Seals | HITACHI Shaft Seals | HITACHI HUB Seals | HITACHI Cassette Seals | HITACHI Gear Box Seals | HITACHI Hydraulic Pump Seal Kit | HITACHI Wheel Seal | HITACHI O Rings | HITACHI O Ring Kits | Customised / Tailor-made Seals/seal kit
Hitachi Seal Kits are essential components for maintaining the efficiency and longevity of your Hitachi machinery. A2Z Seals, a trusted brand in the industry, offers a comprehensive range of Hitachi Seal Kits that deliver unmatched quality and performance, ensuring optimal equipment operation. In this article, we will explore the benefits of these seal kits and provide valuable information on purchasing them.
Superior Quality Hitachi Seal Kits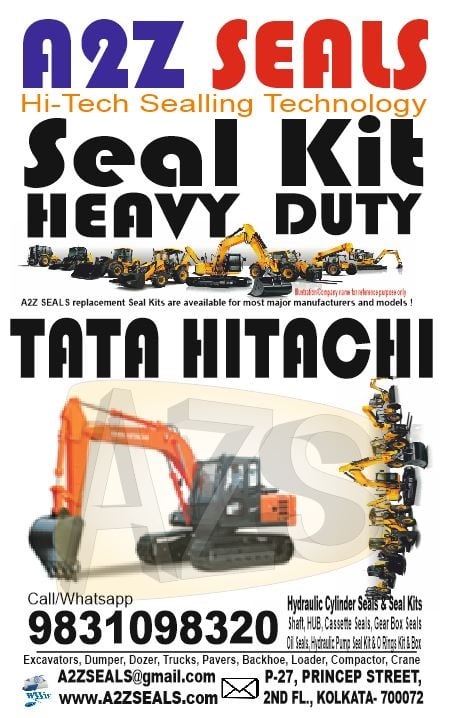 A2Z Seals takes pride in manufacturing these Seal Kits of superior quality. These seal kits are meticulously crafted using high-grade materials to ensure a tight and secure fit. With their impeccable sealing capabilities, these Seal Kits effectively prevent leakage, contamination, and the entry of foreign particles, safeguarding your machinery's integrity. Also explore about the best quality CFW Oil Seals, NOK Oil Seals, and Crane Seal Kits.
Unrivaled Performance for Hitachi Machinery
These types of Seal Kits excel in performance, thanks to their exceptional design and construction. These seal kits are engineered to withstand the rigors of demanding operating conditions, ensuring durability and reliability. Regardless of the challenging environments, the Seal Kits consistently deliver optimal performance, minimizing the risk of costly downtime.
Ease of Purchase for Seal Kits
Purchasing these Seal Kits from A2Z Seals is a hassle-free process. A2Z Seals provides a user-friendly platform for customers to browse and select the seal kits that match their requirements. The website showcases a wide range of seal kits, including oil seal kits and various other types, offering customers a comprehensive selection.
Determining Seal Kit Price and Cost
When considering Hitachi Seal Kits, it is essential to evaluate their price and cost. A2Z Seals offers competitive pricing for their seal kits without compromising on quality. The cost of a seal kit depends on factors such as the specific model, size, and specifications required. Customers can easily access the pricing details on the A2Z Seals website or contact their knowledgeable customer support team for assistance.
Exceptional Customer Support
A2Z Seals prioritizes customer satisfaction and provides exceptional customer support throughout the buying process. Their team of experts is readily available to assist customers in selecting the right Seal Kits for their machinery. Customers can rely on their expertise and receive comprehensive guidance, ensuring they make informed decisions.
Hitachi Seal Kits from A2Z Seals are synonymous with unmatched quality, performance, and ease of purchase. With their superior design, durability, and competitive pricing, these seal kits offer a cost-effective solution for maintaining Hitachi machinery. A2Z Seals' commitment to exceptional customer support ensures a seamless buying experience. Whether you need oil seal kits or any other type of seal kit, trust A2Z Seals to provide reliable sealing solutions that enhance the performance and longevity of your Hitachi machinery.