We offer Tata Hitachi Seal Kit of the "AZS" brand replacement for TATA-HITACHI Hydraulic Cylinder Seals & TATA-HITACHI Seal Kit | TATA-HITACHI Master Double acting Rotary Hydraulic Cylinder Seals & Seal Kit | TATA-HITACHI Oil Seals | TATA-HITACHI Shaft Seals | TATA-HITACHI HUB Seals | TATA-HITACHI Cassette Seals | TATA-HITACHI Gear Box Seals | TATA-HITACHI Hydraulic Pump Seal Kit | TATA-HITACHI Wheel Seal | TATA-HITACHI O Rings | TATA-HITACHI O Ring Kits | Customised / Tailor-made Seals/seal kit
Discover the power of quality and reliability with the TATA HITACHI Seal Kit from A2Z Seals. Engineered to deliver superior sealing solutions, these seal kits are designed to meet the unique needs of TATA HITACHI machinery, ensuring seamless operations and preventing costly downtime.
Unmatched Quality Seal Kits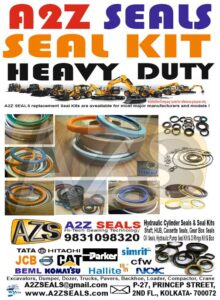 At A2Z Seals, quality is paramount. The TATA HITACHI Seal Kits are meticulously crafted using premium materials, guaranteeing a precise fit and exceptional sealing capabilities. From preventing leaks to safeguarding against contaminants, these seal kits set the standard for quality in the industry. Also explore the best quality CFW Oil Seals, NOK Oil Seals, and Crane Seal Kits.
Wide Range of Seal Kits for TATA HITACHI Machines
A2Z Seals offers an extensive selection of TATA HITACHI Seal Kits tailored to a variety of machine models. Whether it's excavators, loaders, or backhoes, we have the perfect seal kit designed to match the sealing requirements of your specific TATA HITACHI machine model:
TATA HITACHI EX200
TATA HITACHI ZAXIS 220
TATA HITACHI TMX20
TATA HITACHI EX70 and more…
Oil Seal Kits: Enhancing Efficiency
Proper lubrication is essential for optimal machinery performance. The TATA HITACHI Oil Seal Kits from A2Z Seals are engineered to maintain ideal lubrication levels, reducing friction and wear. These oil seal kits enhance machinery efficiency, contributing to extended equipment life and smoother operations.
Cost-Effective Solutions
A2Z Seals believes in providing top-quality solutions without breaking the bank. The TATA HITACHI Seal Kits offer exceptional value for money, delivering premium sealing solutions at competitive costs. Invest in these seal kits to ensure your TATA HITACHI machinery performs at its best without compromising on quality.
Transparent Seal Kit Prices
With A2Z Seals, you'll experience transparent pricing. Our Seal Kit prices are competitive and transparent, allowing you to plan your budget with confidence. Say goodbye to hidden costs and unexpected surprises, and make informed decisions for your TATA HITACHI machinery.
The TATA HITACHI Seal Kits from A2Z Seals embodies reliability, performance, and quality. With its exceptional sealing capabilities, wide compatibility, and cost-effectiveness, these seal kits are a must-have for TATA HITACHI machinery owners. Elevate your machinery's performance with A2Z Seals and experience the difference these quality seal kits make.
Since its Ex200 model inception, there have been many changes in the Hydraulic cylinder system and its seal kits. We are in the replacement market and also simultaneously upgrading our kits. We offer Premium and Standard quality materials.